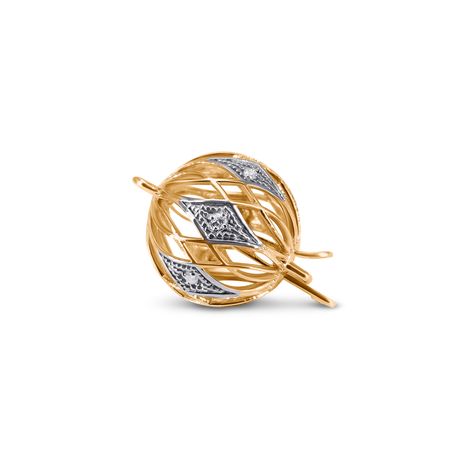 Pearl Clasp AW158I
$106.01
Upgrade Your Pearls with KONIG's Diamond Clasp
The diamond-encrusted filigree pearl ball clasp is a unique and elegant addition to any pearl necklace or bracelet. This clasp features a filigree design that is encrusted with sparkling diamonds, making it a truly luxurious and eye-catching piece.
The filigree design of the clasp is intricate and delicate, adding a touch of elegance and femininity to the piece. The diamonds encrusted on the clasp are of high quality, ensuring that they will catch the light and sparkle beautifully. The diamond cut and illusion finish on the clasp gives it a luxurious and high-end look, making it perfect for formal occasions or as a statement piece.
The clasp is designed to fit any pearl size, making it a versatile piece that can be paired with a variety of pearl necklaces or bracelets. The clasp also has a safety tongue closure, which ensures that the pearl necklace or bracelet will stay securely in place.
The diamond-encrusted filigree pearl ball clasp is a great gift for any occasion, whether it's for a birthday, anniversary or any other special event. Don't settle for anything less than the best, order your KONIG clasp today and add a touch of elegance to your pearl jewelry collection.
Information
| | |
| --- | --- |
| Type | Pearl Clasp |
| Metal purity and title | 14K Yellow Gold |
| Description | 14k yellow gold ct. Size:10mm for Any pearl size Single Row Clasp Ball clasp Non diamond clasp  Pearl Clasp |
| Weight | 1.20 |
| Total Carat Weight | 0 |
| SKU / Item Number | AW158I-YG-14K-53301 |
| Fit to Pearl | Any |
| Dimensions | 10mm |
| Finish | Diamond Cut/ Illusion |
| closure type | Saftey Tongue |