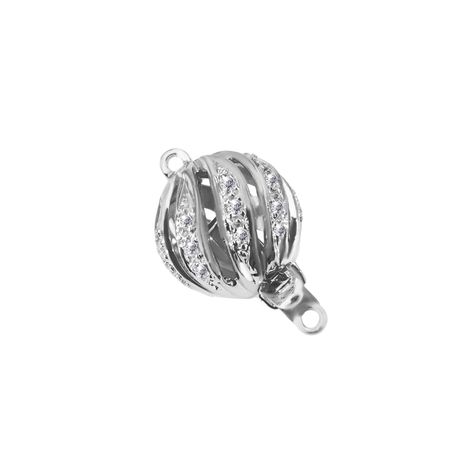 Pearl Clasp A306
$234
Sparkle and Elegance Unite: Discover the Diamond Pearl Clasp for Unparalleled Style
Elevate your jewelry collection to new heights with the enchanting Diamond Pearl Clasp, a masterpiece that seamlessly combines the brilliance of diamonds with the timeless beauty of pearls. This exquisite accessory exudes sophistication and allure, becoming the focal point of your ensemble and a symbol of refined style.
The Diamond Pearl Clasp, available in 10mm or 12mm sizes, adds a touch of glamour to any pearl necklace. Its ball shape crafted with precision showcases a flawless union of elegance and versatility. The pave finish creates a breathtaking sparkle, amplifying the radiance of the diamonds and accentuating the natural beauty of the pearls. Whether you prefer yellow, white, or rose gold, this clasp allows you to express your personal taste and create a look that is uniquely yours.
Designed with both aesthetics and security in mind, the Diamond Pearl Clasp features a Safety Tongue closure type, ensuring that your pearls remain safely fastened. With each wear, you can embrace the confidence that comes from knowing your precious pearls are securely adorned.
Discover the extraordinary fusion of diamonds and pearls with the captivating Diamond Pearl Clasp. Unleash your inner radiance and adorn yourself with this masterpiece of sophistication. Experience the craftsmanship of Konig and embrace a world of exquisite style.
Information
| | |
| --- | --- |
| Type | Pearl Clasp |
| Metal purity and title | 14K White Gold |
| Weight | 1.85 |
| Total Carat Weight | 0.09 |
| Type | Diamond |
| SKU / Item Number | A306-WG-14K-DIR-0.005L2 |
| Fit to Pearl | Any |
| Dimensions | 10mm |
| Finish | Pave |
| closure type | Saftey Tongue |