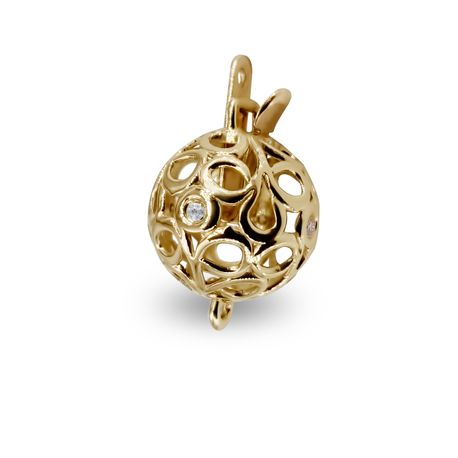 Pearl Clasp AW584
$78
Experience Timeless Elegance with the Konig Pearl Clasp
The Pearl Clasp with a Diamond by Konig is a perfect accessory for those who love elegance and luxury. This single row clasp is designed to fit pearls that are 7.50mm to 8.00mm in size, ensuring a perfect fit for your pearl jewelry pieces.
Our pearl clasp is finished with a shiny polish that adds a touch of glamour to your jewelry. The lustrous finish is designed to be long-lasting, so your clasp can look as beautiful as your pearls for years to come. The safety tongue closure on the clasp ensures that your pearls stay securely fastened at all times, making it both functional and fashionable.
The ball shape of the Pearl Clasp with a Diamond adds a classic and timeless touch to your pearl jewelry. The simple and elegant design of the clasp highlights the natural beauty of your pearls. The diamond accent on the clasp adds just the right amount of sparkle to complement your pearls without overpowering them, adding a touch of luxury to your pearl jewelry collection.
At Konig Jewelry, we are committed to providing high-quality jewelry that combines elegance and functionality. Our Pearl Clasp with a Diamond is a perfect example of this commitment to excellence, designed to secure and enhance the beauty of your pearls. Shop with Konig Jewelry and experience the beauty and luxury of our pearl clasp.
Information
| | |
| --- | --- |
| Type | Pearl Clasp |
| Metal purity and title | 9K Yellow Gold |
| Description | 9k yellow gold 0.03ct. SI1 G-H Diamond Size:10mm for 7.50mm - 8.00mm pearl size Single Row Clasp Ball clasp Diamond clasp Ball Clasp Pearl Clasp |
| Weight | 0.88 |
| Total Carat Weight | 0.03 |
| Type | Diamond |
| SKU / Item Number | AW584-YG-9K-DIR-0.0075 |
| Dimensions | 10mm |
| Finish | Shiny Finish |
| closure type | Saftey Tongue |