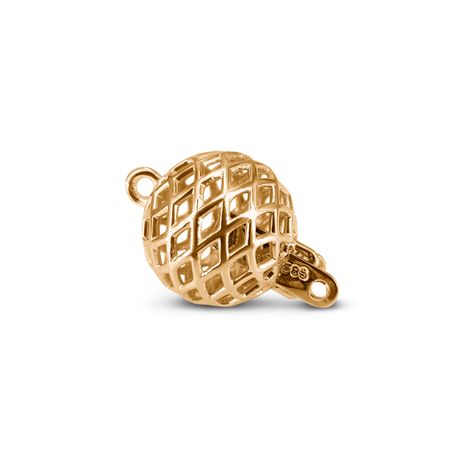 Pearl Clasp AW172
$69
Secure Your Pearl Jewelry with the Elegant Pearl Clasp
Looking for a clasp that will secure your pearl jewelry while adding an element of elegance? The pearl clasp is the perfect choice. This ball-shaped, single-row clasp with a shiny finish is available in various sizes and gold options.
Elegance and Durability: The Konig Pearl Clasp
Crafted by the reputable manufacturer Konig, the pearl clasp is a durable and elegant piece of jewelry that's made to last. The ball-shaped design complements the round shape of pearls, creating a cohesive and sophisticated look. The shiny finish adds an extra layer of elegance to your pearl necklace or bracelet.
Versatility: Available in Various Sizes and Gold Options
The pearl clasp is available in sizes ranging from 9mm to 12mm, ensuring a perfect fit for any pearl size. Additionally, it comes in yellow, rose, or white gold, making it a versatile addition to your jewelry collection. The single-row design of the clasp makes it easy to match with your existing jewelry.
Takeaways
Secure your pearl jewelry with the elegant and durable pearl clasp from Konig. With its shiny finish, versatile gold options, and ability to fit any pearl size, it's the perfect choice for anyone looking to add an element of sophistication to their jewelry collection.
Information
| | |
| --- | --- |
| Type | Pearl Clasp |
| Metal purity and title | 14K Yellow Gold |
| Description | 14k yellow gold ct. Size:9mm for Any pearl size Single Row Clasp Ball clasp Non diamond clasps Ball Clasp Pearl Clasp |
| Weight | 1.01 |
| Total Carat Weight | 0 |
| SKU / Item Number | AW172-YG-14K |
| Fit to Pearl | Any |
| Dimensions | 9mm |
| Finish | Shiny Finish |
| closure type | Saftey Tongue |